im done with this stupid fucking site, so you can now find me at myspace:
http://www.myspace.com/kaelvohn
oh ya one more thing
GO TO FUCKING HELL YOU WORTHLESS FUCKING GAURDS!!!
just please look at this if nothing else
cutter's anthem
ANY BODY CAN JOIN THIS I DONT CARE WHO YOU ARE.
WHO DO YOU THINK SHOULD DIE?
come on you want to....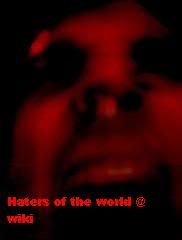 Haters of the World
Lost Insanity
every thing you need to know to be a satanist
for any one that dont like all the churchy god is our savor people.
Im a reguler 15 year old guy thats 5'11 and i wish was a vampire so could stay yong an kill ppl. im abuot 1%-2% good and happy and 99%-98% evil and depresed. i live in a crapy trailer. i like anime.
the one and only poem ive ever writen:
[
BLOOD IS RED
MY VAINS ARE BULE
MY LIFE AINT WORTH LIVEN.
HOW ABOUT YOU?
]
HOLY SHIT!! i wrote another poem
if only, if only
if only,
if only,
she knew what was happening,
if only, i knew what to do,
if only, things would be better,
if only i could help,
if only she really knew.....
this is in no order just to lazy to type them all, copy and paste is a great thing.
[
$Im A nAtUrAl BoRn BiTcH sO lIvE wIt It$
] friend
[
*sammi*
] friend
[
The sun keeps fading away.
] friend
[
Angel_619acdc
] friend
[
black_lily
] friend
[
Dragon 13
] friend
[
elmo101(was here)
] friend
[
eMiLy RoX lYkE tOe-SoX
] friend
[
Ex
] depresed friends
[
rockin' angels28
] friend
[
hott_gurl14
] friend
[
Incontinence Happens
] friend
[
let.it.bleed
] =D
[
Moonshdow13
] friend
[
Found Her Soulja Boy
] friend
[
nikitatjuh
] friend
[
Subject37
] friend
[
Piercedskull
] We hate the world.Deal with it
[
i quit elftown
] friend
[
the fallen angle
] Wanabe Vamps
totally random friend
[
kissy.chrissy
] we like 2 blow stuff up
[
~_//That Which Is Lost\\_~
] friend
[
Dwarf Ronin
] FullMetal Alchemist Fans!
[
Nina Neglect
] we hate most ppl
about me:
001: Name: Noah i hate it so
002: Nickname: Sam calls me Jiff because im skippys opposite.
003: Country of living: U.S
004: Birth date: 2/4/91
005: Height:5'10-'1
1
006: Eye color: amber
007: Shoe size: 13
008: School/work: School
009: You smoke: did it was pointless
010: Hobby's: sleeping, gameing, burning things, and hanging out with my freinds
011: Brothers/Sisters: 1 older sister
012: Relationship: so close...
013: Piercing(s): had 1 my mom made me take it out....(stupid bitch)
014: Tattoo(s): No...not yet
015: Vacationland: HELL
016: Are there people you won't reply to? justin
017: Nicest person you met this year: no one
018: Person you rather not have met this year: justin
019: Who would you like to meet: Green Day
020: Who is it that you admire: Satan
021: Most sexy person(s): umm shit i dont kno
022: Favorite Pajamas (clothes to sleep in): shirt and boxers
023: Favorite Car: any thing thats not a mini-van
024: Favorite Movie(s): the ones ppl die horable deths in
025: Favorite Music: jus wut ever cept contry clasical and ya thats it
026: Favorite City(s): K-town Fairbanks
027: Favorite Plush: i blow those up
028: Favorite Perfume/none toilette/aftershave: axe
029: Favorite Magazine: Weekly World News
030: Favorite sound: ppl in misary
031: Favorite TV-series:Family Guy, and Futurama, inuyasha, full metal alchemist, fooly cooly, coyboy be bop, aqua teen hunger force and alot of other ones
032: Favorite Writer: dont got 1
033: Favorite Nickname:none i dont like thoes
035: What all is under your bed: umm u dont want 2 kno
036: Favorite color: black
037: Favorite Song ever: American Idiot, Holiday, St. Jimmy, Kiptic Souls, Nookie and jus 2 many more
038: Favorite song at this moment: 2 damn many
039: Favorite food: food
040: Favorite class at school: Biophis
041: Favorite drink: vanilla coke
Alcoholic beverage: don't drink
042: Lucky number: dont got any
043: What do you think that is greatest thing about yourself?: i dont care bout the world
044: What deodorant do you use: axe
045: Favorite shoes: black 1s
046: What time do you go to bed on weekdays: 9-12
047: What word do you use most: i use two go and die
048: Most romantic moment in your life: dont got 1
049: Most ashamed moment of your life: i dont remember
050: You spend your time rather inside or outside: in a cave



My SUV is a gas guzzling slut that can out whore your gas guzzling SUV slut.
-- Helga
The uncircumcised, pre-operative transsexual.