Username:
[
Xerin Zamaki
]
Name:
Xerin Zamaki
Age:
17
Birthday:
June 27th
Rank:
none
Physical Description:
Xerin is about 5'11", jet black hair, gun metal silver eyes that are so dark they look almost black, weighs about 180, wears an orange hoodie with a shiringun on the hood, black tee with his clan's symbol on his back also has a small tat of his clan's symbol on his left arm near his shoulder, black baggyish pants with the hyuga clan's spiral near the out side bottom of both legs, and flip flops that are orange on the bottom, black on top.
Personality:
Silly, fun, not to excited but never really calm, a.d.d, lazy, unaggressive when it comes to fighting, but when he does fight can be kinda crazy/silly, like hes not taking the fight seriously, gets bored easily, protective of what he has, since he has very few things, unsure of his past too a point, tends to just be everywhere, sickish at times because of his past and his powers.
Likes:
Food, messing around, besides that hes not sure cause of the amnesia.
Dislikes:
People who shun him, look at him weird, hate him for what/who he is and snakes for an unknown reason, again amnesia.
Image(s):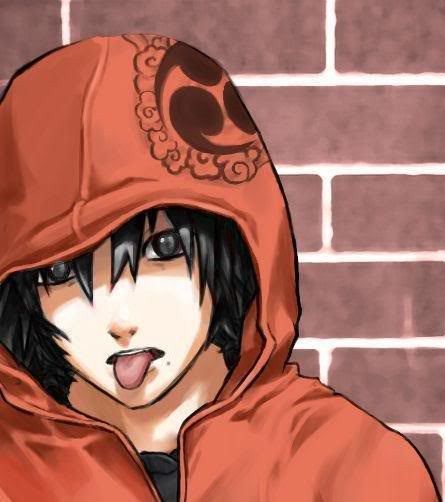 Clan Symbol: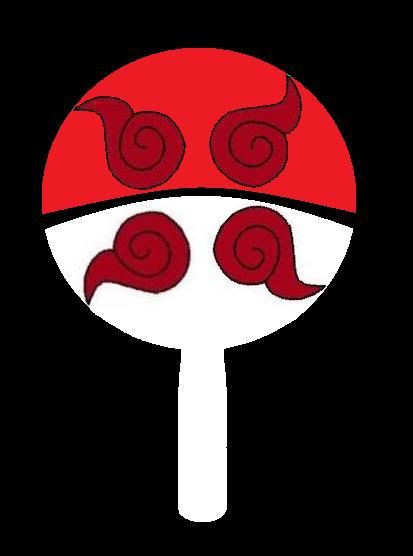 History of the Zamaki clan: The Zamaki clan was born with Xerin and he hopes one day to expand it.
History of Xerin: Xerin was born in a test tube and raised by himself in the treacherous woods of the Sound Village. Orichimaru had great expectations for Xerin but when Xerin turned 8 and still showed no signs of being able to use ocularjutsus Orichimaru abandoned him. A few years later Xerin came back and attacked Orichimarus lab looking for him with his eyes now matured and able to use Shiringan and Byukugan. Orichimaru tested Xerin to see if having both ocularjutsus made Xerin special or stronger, and they did. Xerin defeated all the experiments Orichimaru sent at him. Orichimaru then took Xerin back and trained him to become stronger. Another few years later Xerin gained the ability to copy jutsu and since he had all 5 elements he could copy any jutsu so long as it wasn't a birth trait, but there was a problem that Orichimaru and Xerin soon learned. Xerin could copy any jutsu, but with a price and that price was something dear to Orichimaru, more important then living. Xerin lost memory whenever he copied certain jutsus. Most of the time it was just short term so he'd either forget who he just fought or someone he just met, but the more complex and powerful jutsus like kekkei genkai he would forget days, months, even years. After Orichimaru learned of this he declared Xerin a complete failure and used him to test new experiments or as a throw away solider, by sending him on missions he was sure to die. Xerin later left and went into hiding until he reached the Mist Village. He then became a tool for the Mist and killed Kaguya Clan except for Kimimaro. Xerin then became an apprentice under one of the Seven Swordsmen of the Mist. Xerin does not know if he ever finished his training to become the next swordsmen. Nor does he know if he did where the sword is.
Xerin one day hopes to find a permanent home/village or to create one for himself and others like him, or for people who just need a place to go. He also hopes that he doesn't already have a village that he created and he just forgot about it...... T,T
---
Back to
Raindrops On Roses
Back to
R.O.R. Characters