Run By [Stratakus]
Graphics by [65tyjvw45b]
Brought to you by the Elftown Assembly
Winners: Halloween Costume Competition - 2004
No news item found.
</center>
<center>
Congratulations!
Thank you to all that contributed!
Greetings all, and welcome to the First
Elftown Halloween Costume Competition
. Every Halloween, there's contests for Art and Poetry, but we all know Halloween is about the dressing up and getting Candy or scaring the crap out of people! I know the Dressing UP is my favorite part. Putting time and effort into a costume and then showing it off. And that's what this contest is all about!
Rules:
- Costumes must be put together and designed by you.
No Store Bought (definition of Store Bought further down)
or
Rentals
. That's cheating since it had nothing to do with originality on your part.
- Maximum of 3 pictures per person, all of the same costume.
- No pics of someone elses costume.
- A drawing of a costume doesn't count. Anyone can draw a costume up in less than ten minutes.
But
If it's the drawing of what your costume is based off of, it's allowed, but it counts for one of the three pictures you're allowed to upload.
This is only allowed if you already have a photo of the same costume uploaded.
- Must be a 2004 Halloween costume, not some Cosplay costume you wore two years ago, unless it's the same costume you wore for this halloween.
And for you people who don't qualify but want to show your costume, instead of breaking the rules and uploading a rental or store bought costume, you can Show Off Your Costume here. In that wiki you're also free to upload pics of your children or friends, but there'll be a limit to that to save space.
Store Bought Costume Definition
A Store bought costume is the type you get at Walmart, already sown together and all you have to do is put it on, maybe add a cape and wig and voila! The only way a store bought costume is allowed is if it's been modified enough to actually look like some effort was put into the costume.
Home Made
Either sown by you, or modified versions of other cloths to make a costume. Knick Knacks from one store, a mask from another, a shirt here, some tape there, spray painting something and taping it together to turn it into something completly new. That's originality! And that's what this competition is all about.
So Enough Of The Rules, Let's Have Some Fun!
Submissions:
1. [
Theben
] - Ash from "Evil Dead"
---
2. [
Cathos
] I'm going to wear pale make up with it and be a ghost.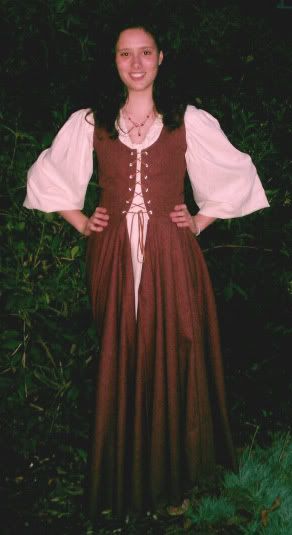 ---
3. [
Firewielder
] I'm fire this year! Woo Hoo.
---
4. [
vagabond faery
]
I'm an evil faery. This picture shows the whole costume without the top hatlike and this more of what the top will look like.
---
5. [
Dark Mousy the Kaitou
] I am a chracter from my manga...he is a crazy person...hence the pinka and green hair, though you can't see the pink.
That's the pic my costume is based on.
---
6. [
beautiful _ darkness
] vampire costume
---
7. [
, , , , , , , , ,
] It's an owl costume. made with no pattern and no sewing (it's all glued)
---
8.[
The Blonde Witch
]'s Roccoco costume. All sown and designed by myself (including the hat!) save for the black skirt which was bought at a used store. And a better view of the sleeves:
---
9. [
Sotalean
] Gypsy
The entire costume was sewn by me. Nothing was bought except for fabric, the chimy anklet and the head scarf.
---
10. [
OvertheMoooon
] 1890s prostitute
---
11. Pirate
I made it for a fantasy & pirate event, but iam going to wear it to Halloween again. I'll take a few better pictures soon, mostly because i made some adjustments.[
Linn Scarlett
]
---
---
13. [
werethylacine
] - Ealyal Plrrllrf
My oldest and dearest D&D character finally comes to life... enjoy! Pictures prone to change.
---
14) [
Fire Child
]
---
15. [
Fea V
] I'm being American McGee's Alice for Halloween. My mom made the costume, only the boots and fishnets are store bought. And a better pic of the apron
---
16. [
Sylraïana
] Owkey, I gotta dump the hat, it's supposed to be something like my Char, but it wasn't and isn't so now it's just a plain old Witch... (If I take of the hat I'll become even more... eh... ugly...) I made it all by myself. Only the shoes and the fabric were bought... It's a dark blue fabric with a transparent on top in the skirt. On the transparent there are these sweet, dark blue leaves and stuff....
---
17. [
moira hawthorne
] Feeling abit evil! Drow Fae!
Hawthorne as Drow Fae!
---
18. [
jaguargal
] - Faust VIII (Shaman King)
---
19. [
~Lady Morgana~
]
Vampire
---
20. [
allenp
]
Devilish
A costume I made for my Fiance :)
Before :)
After :P
---
21. [
Yiwerra
]
It's "corpse paint" like Black Metal People use to wear it on stage and in the forests.
So i kinda went as a female Black Metal Fellow.
I mean, they're a pretty scary species - usually have inhuman attitudes and philosophies, are brutal and aggresiv, make noise, and smell....
like orcs pretty much.
Hail norway.
[
click to enlarge
]
---
22. [
prairierose
]
I am Princess Leia from A New Hope. The costume is sewn entirely by me!
---
23. [
jannin
]
...And I will never ever sew again. And I think I glued part of that thing to my hair....
It seems I have strange posture. Oh well.
---
24: [
Dragon Hawk
] Soome very random pics of my costume. If i can find or get a better one, it shall appear.
---
25.
[
Kavu
] as a scimitar wielding warrior.
---
26.
Me, [
Minotaur Queen
], as Anna from Van Helsing. I made the Bodice and Sword belt/pouch. Yea thats my real hair.
---
27. [
kduncan
] These are the two I made. My daughters picked out the material and the pattern. I'm just glad they picked something.. easier.. this year.
Go or return to:
-
Halloween Art Competition - 2004
-
Halloween Poem Competition - 2004