<news:[Halloween Art Competition - 2004@wiki]>
All submissions:
Halloween art 04, page 1
Halloween art 04, page 2
Halloween art 04, page 3
Congratulations!
Thank you to all that contributed!
Rules:
Art must be done by Elftowners and posted here by the original artist. Which means, no matter how much you might like a particular image on somebody's house, you are not allowed to add it here without the artists permission. Please put forth your best effort and the best quality, i.e. no drawings on lined notebook paper. Any such entry will be removed. Each member may enter
2
entries!! Also, scan your images if at all possible.
Last but not least it can happen an artwork has the same title as another one, this is not against the rules as long as the artists names are clear.
How to post it here:
Add your image after the last one that has been already posted. Don't forget to write its title and your user name. For example:
1. "Title" - [
insert user name
]
Size:
Since the chosen images will be featured on Main Street and might be included in the poems, we wouldn't like them to be too big. Your image should be no wider than 300 pixels and the height should be no more than 500. Be creative but please keep that in mind!
Themes:
Submissions for Mainstreet will not be accepted if they feature violence or disturbing actions. All mediums, excepting photography, will be accepted.
What will we be expecting? Creativity and Halloween themed pictures - from scary to cute.
We will be picking two images as the winners.
Note:
Two Halloween images will be picked out by the Council and the Assembly among all those presented. Participants will receive special Halloween badges and the winners will receive Masters of Building badges.
THIS CONTEST IS CLOSED!
Submissions:
1. "The pumpkin man" - [
Rolo
]
2. "A Fire Inside" - [
sing my sorrows
]
3. "Trick or Treat" - [
Thistlewood
]
4. "Lady Aensland" - [
Cat2147
]
5. "Miss Halloween" - [
BlueAngel
]
6. "Spooky Skull" - [
Sir. Robert
]
...I hope this is halloweenish enough i think it is just spooky
7. "Dark Angel" - [
Maeghi
]
8. "The Haunted House" - [
font
]
9. "Something wicked this way comes" - [
Elegy - gone
]
10. "Angel Of Darkness" - [
Yhkamc Tacanja Du Tea
]
11. "Female Alucard" - [
Epscillon
]
12. "Owl in the Moonlight" - [
Sir. Robert
]
13. "Pumpkins' World" - [
a clockwork orange
]
14. "Dragon in a pumpkin" - [
Levoton
]
15."Ghoul Bar" - [
The Dark Lord
]
16. "Trick or Treat" - [
Deadly_DNA_Girl
]
17. "Dark Fairy" - [
ButterflyFairy
]
18. "Nightcrawler.
..sorta" [Madame Black], in his bunny suit ready to trick or treat! XD Tisnt completely coloured yet, but it will do I suppose


http://www.deviantart.com/view/11763074/

19. "Happy Halloween!" - [Rennie]


"Trick or Treat!"



20. "Join me in a stroll." - [festoon]


Cheesy, but cute Vampy Guy, I think I will name him Hallo.

21. "Phil at the Gate (Flashback Sequence, Part One)"---a placeholder until I get something more clearly Halloween-ish. (Click image for full size in a new browser window):P [Paul Doyle]



22. Welcome to Death - [Bye bye elftown]



23. "The Vampire" - [Erestor]



24. "A Very Chibi Halloween" - [Leara]


Larger, more detailed version, so PLEASE look at the larger version, the small one kills so much detail. : http://www.deviantart.com/view/11547247/

25. Gwarlgh - [evilhamster] will be colored.. soonish.. >_> maybe


Mine... Hope the size is okay >_o;



26. "Trick or Treat" - [Sotalean]


Full version here
http://www.deviantart.com/view/11466259/

27. "Under the Moonlight Night, You're in for a Fright" - [Asrun]


Larger Version http://home.cogeco.ca/~don.cruikshank/halloween2004finilrg.jpg

28. "Procreation of the Pumpkin People" - [Yncke]



29. "Give us candy or the kittens will get you!" - [Cathos]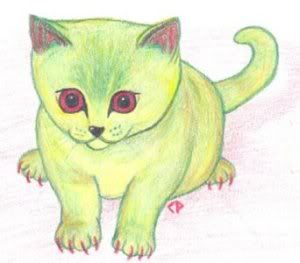 30. 'Dont loose your soul...' [moira hawthorne] Mahhahaha She-Elric / 'Elrica & Stormbringer' dressed up as this about 28 yrs ago... but I didnt look this good.... lol!


see Larger/Better version: at my house... [moira hawthorne]


31. : : ScArEd : : [una]
hopefully, ive managed to fix the colors now :P



32. : : bLoOdCoLoUrEd SkY : : [una]



33. "Hallowe'en" - [SanSol]
I have no idea how to divide into separate pages,hope someone else could do this:)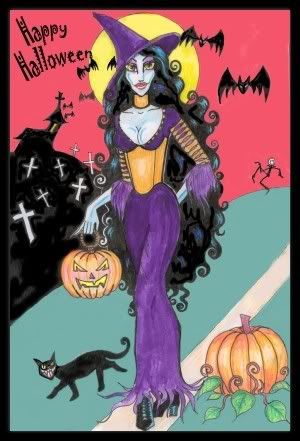 34.The Phantom Of The Opera-"A Hautingly good show!"-[DarkJenni]



35.[Dil*] A witch for ya :) (detail was slaughtered.


Detail much better here :P



36. Halloween Tricks-[Pegasus Rider and Lancer]



37. "Goblin Girl" - [Orouriel]



38. [Dark Mousy the Kaitou]
Did God forsake you to?Part one in a two pic gothic style series.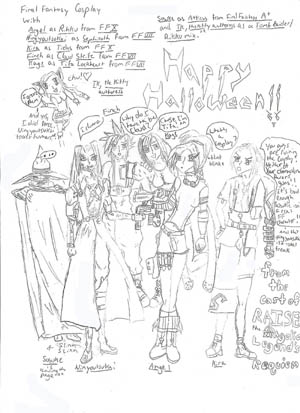 Happy Halloween from the cast of my manga with...

Angel as Riku from FFX
Ningyoutsukai as Sephiroth from FFVII
Kira as Tidus from FFX
Finch as Cloud Strife from FFVII
Kage as Tifa Lockheart from FFVII
Sosuke as Atticus from Final Fantasy A+
And Tk, the Kitty authoress as a Riku/Tomb Raider mix with a jetpack.^^
(sorry about the messy text Photoshop doesn't like me.
Kira: You guys are ruining the cosplay! Neither of your characters favors guns! It's bad enough Sosuke isn't a real FF chrac...and that Ningyoutsukai is a freak.
Angel: What's a cosply
Ningyoutsukai: I dunno
Sousuke:(is leaving the page)

Finch: Why do I haveta be Cloud?!
Kage: 'Caus I'm Tifa!)

39) "Love Me!"-[SerenityBug]




40.) "Midnight Flight" -[Chel.]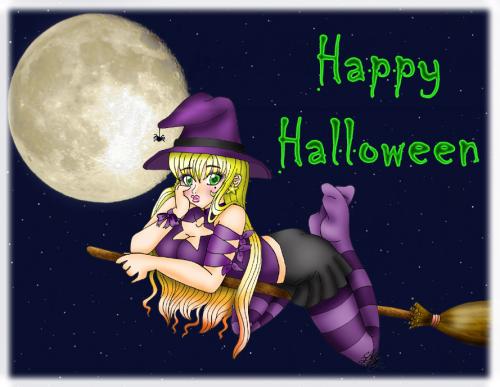 Larger/better version: http://www.deviantart.com/view/11492056/




Go or return to:
- Halloween Art Competition – 2004
- Halloween art 04, page 2
- Halloween art 04, page 3
- Halloween Poem Competition - 2004
- Halloween Costume Competition 2004
- Halloween Art Competition
- Elftown Halloween Competitions